Workshops for children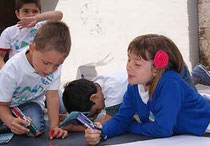 "Mahatma Lilliput: Architectural Workshops for children" is our educational commitment aimed at children from 3-12 years. A new way to share experiences, explore the environment and educating the gaze: playing the will discover more creative ways to see the world around us and imagine new horizons through architecture.
By developing creative workshops for children we approach basic concepts to talk about our planet and ways of living. Such bases will prepare them to meet the world architectures, the language of the cities, the characteristics of our cities and the peculiarities of the places where we live.
For the team Mahatma LILIPUT the importance of carrying out this project is in the certainty that these and other concepts surrounding architecture enrich the education of children and are not officially included in the schedule of formal education. www.mahatmaliliput.com