Workshops for adults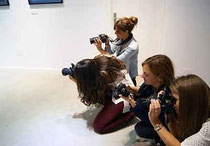 We often offer various activities for adults, especially workshops and courses related to creativity, artistic expression and architecture. Our educational philosophy means learning through experience, which our actions are eminently practical and varied: Painting, Photography, Design, Education, Psychology, sculpture… Our objectives are not only technical knowledge but also the stimulation of creativity and self-expression.
The offer of creative workshops for adults gets completed with events and shows to promote culture and the participation of emerging artists from Málaga: Music, Magic, Microtheatre… Our plans are "Fridays at Mahatma".